Winery
Summer Hours:  Sat. & Sun. 1-5pm
Open for Winery Tours, Tasting and Purchasing by Appointment • Same Day Appointments OK (in some cases) Call (707) 923-2429
At the winery, 5.5 miles west from Redway

Briceland Vineyards is a small family owned winery offering distinctive, site driven wines made from locally grown grapes.  Humboldt County's cool climate is well suited for Briceland's acclaimed Single Vineyard Pinot Noirs, Sauvignon Blanc and Chardonnay.  The winery also makes Arneis, Zinfandel and Syrah.  Newly released recent additions include Merlot, Cabernet Sauvignon, Noir d'Orleans (a Bordeaux Blend), and Dry Gewürztraminer, all from Humboldt Organically farmed grapes.
Since its founding by Winemaker Joe Collins and Maggie Carey in 1985, Briceland Vineyards has consistently won awards at prestigious competitions such as the California State Fair, the Orange County Fair, Dallas Morning News/Tex Som and the SF International Wine Competition. Among the awards at the State Fair are Best Wine of Region and Best in State.
Recent awards and scores are listed here on Briceland Buzz.
As Humboldt County's first 2nd generation winemaker, Andrew Morris had the unique opportunity to train and apprentice with his step-father, Joe Collins. Collins is considered a Humboldt wine pioneer and is widely credited with helping to establish commercial production of wine from Southern Humboldt grapes through his consulting and support of most of the early vineyards in the area. The winery continues it's commitment to Humboldt grapes by working closely with the small growers in the area. Currently, over 75% of the wine produced by Briceland is from Humboldt grown grapes most of which are farmed Organically in tiny hillside vineyards including some dating back to the late '70's and early '80's & 90's.
Briceland Vineyards wines are available at markets and restaurants throughout Humboldt County.  Wine can be purchased at the winery by appointment, including selections 
reserved for restaurants which are not offered in stores.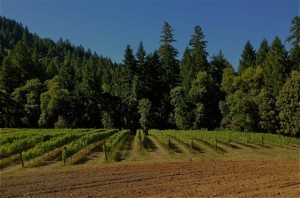 The winery is open for tours and purchasing on a limited basis by appointment and hosts open houses twice a year on Memorial Day Weekend and Thanksgiving Weekend.  Shipping is available by FedEx and GSO. Wine Club Members enjoy reduced prices at the winery, tasting room and on shipped wines.
Open Summer Weekends Sat & Sun 1-5 and all year by appointment.
Contact us at: andrew@bricelandvineyards.com or 707-923-2429.